TRANSLATION YESTERDAY AND TODAY: HOW MODERN TECHNOLOGIES ARE CHANGING THE WORK OF A TRANSLATOR
Keywords:
translator, translation memory, automated translation, CAT programs.
Abstract
Over the past few years, translation as a profession has undergone significant changes caused by the emergence of new technologies. In an industry that is growing rapidly in terms of revenue, more and more computer applications are being used to speed up work and improve efficiency. Among the new technologies that stand out is the use of translation memory, with which translators can take advantage of their previous work to avoid repetitive tasks and save time and effort. Such changes are also helping translators to gradually raise average incomes and break the old stereotype of poorly paid professionals.
References
Chan, S. (2013). Approaching localization. In C. Millán & F. Bartrina (Eds.), The Routledge handbook of translation studies (pp. 347–362). London, UK: Routledge
DePalma, D., Hegde, V., Pielmeier, H., & Stewart, R. (2013). The languages services market. Cambridge, MA: Common Sense Advisory.
Doherty, S., & Kenny, D. (2014). The design and evaluation of a statistical machine translation syllabus for translation students. The Interpreter and Translator Trainer, 8(2), 295–315.
Doherty, S., & O'Brien, S. (2014). Assessing the usability of raw machine translated output: A usercentered study using eye tracking. International Journal of Human-Computer Interaction, 30(1), 40–51.
Farghal M. Contextualizing. Translation Theories / United Kingdom: Cambridge Scholars Publishing, 2015.
Gaspari, F., Almaghout, H., & Doherty, S. (2015). A survey of machine translation competences: Insights for translation technology educators and practitioners. Perspectives: Studies in Translatology, 23(3), 333–358
Internet World Stats. (2015). Usage and population statistics: World users by language. Retrieved from: http://www.internetworldstats.com/stats7.htm
Kenny, D., & Doherty, S. (2014). Statistical machine translation in the translation curriculum: Overcoming obstacles and empowering translators. The Interpreter and Translator Trainer, 8(2), 276–294.
Munday J. Introducing Translation Studies. Theories and applications / L.: Routledge, 2016.
Randhawa, G., Ferreyra, M., Ahmed, R., Ezzat, O., & Pottie, K. (2013). Using machine translation in clinical practice. Canadian Family Physician, 59(4), 382–383.
Snell-Hornby M. The Turns of Translation Studies. New paradigms or shifting viewpoints / Amsterdam: J. Benjamins Publishing Company, 2006.
Web translation as a genre. 2009. Studies on translation and multilingualism. [Электронный ресурс]. – Режим доступа: http://www.termcoord.eu/wpcontent/uploads/2013/08/Web_translation_as_a_genre.pdf
W3Techs. (2015). Usage of content languages for websites. Retrieved from http://w3techs.com/technologies/overview/content_lan guage/all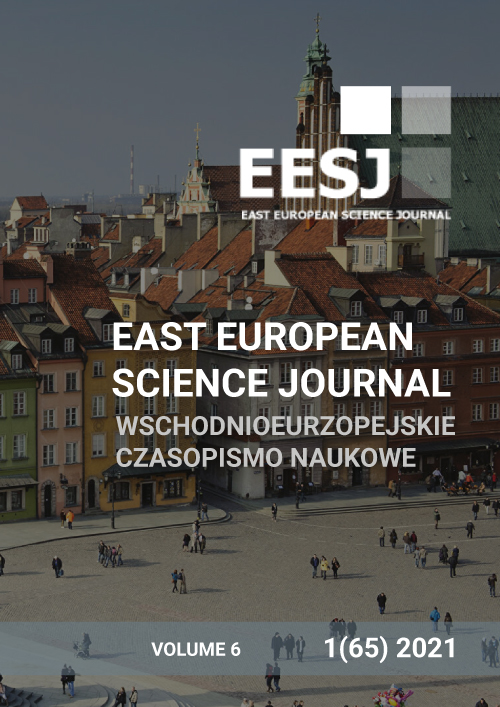 Downloads
How to Cite
Безобразова , А. 2021. "TRANSLATION YESTERDAY AND TODAY: HOW MODERN TECHNOLOGIES ARE CHANGING THE WORK OF A TRANSLATOR ". East European Scientific Journal 6 (1(65):50-54. https://archive.eesa-journal.com/index.php/eesa/article/view/259.
License
This work is licensed under a Creative Commons Attribution-NoDerivatives 4.0 International License.
CC BY-ND
A work licensed in this way allows the following:
1. The freedom to use and perform the work: The licensee must be allowed to make any use, private or public, of the work.
2. The freedom to study the work and apply the information: The licensee must be allowed to examine the work and to use the knowledge gained from the work in any way. The license may not, for example, restrict "reverse engineering."
2. The freedom to redistribute copies: Copies may be sold, swapped or given away for free, in the same form as the original.